Conquest Top Competitors and Increase Fixed Operations Revenue

Reach your customers with email and direct mail campaigns.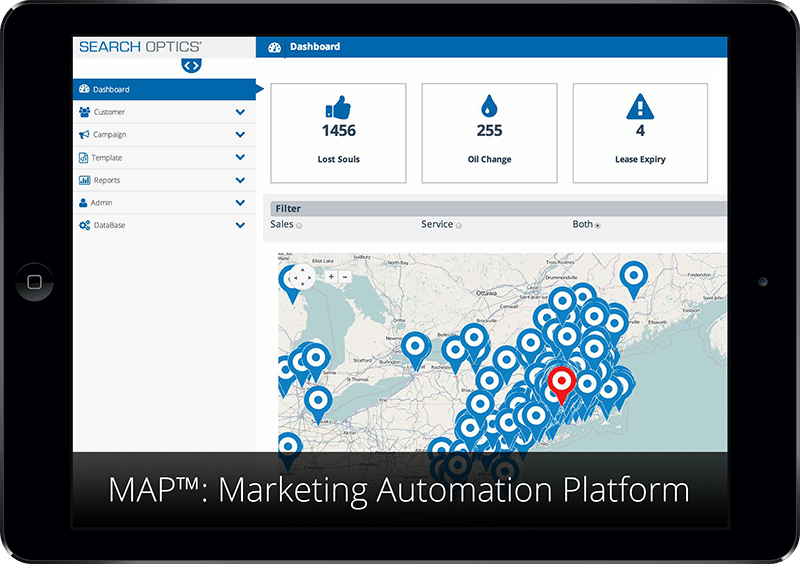 MAPTM – Marketing Automation Platform
Leverage Customer Data to Deliver Effective Email and Direct Mail Campaigns
Harness the power of marketing automation without doing the heavy lifting. MAP uses the data and history you've gathered over time with each of your customers, so you can easily identify the optimal message that speaks to their point in the purchase lifecycle. Send highly customised e-mail and direct mail campaigns to match your monthly goals, as well as plan for future promotions and initiatives. MAP blends the capabilities of marketing automation with a human factor to determine the best upsell strategies and referral opportunities to encourage customer loyalty from the first purchase through auto services and future sales.
Features include:
Attract new customers – our partnership with industry-leading data sources not only makes it easier to optimise campaigns to specific areas of your market, but also to identify highly motivated individuals for conquest campaigns
Follow-up and recovery – we ensure your customers stay on course after the initial point of sale with triggered communications.
Flexible, automated campaigns – experiences at all areas of your operations (sales, service, parts) can be used whenever you need
Personalised URLs (PURLs) – serve up customised offers and dealer-specific content that encourage shopping actions and increase your ROI
Campaign integration – by focusing on consistent campaign strategies and customers into programmatic media, search, and social efforts, you'll have a clear picture of the full reach of your digital marketing, without losing the ability to see activity from specific channels
Marketing automation – let your MAP strategy team do the work by creating the experiences you want, when you want. We'll craft your message, ensure the right customers are included, and activate at your preferred time, thus allowing you to focus on running your business
Looking for a targeted source of leads for your business? We make it easy with our personalised solutions.
*
indicates a required field.