Highlight the Benefits of Your Products Against the Competition

Position yourself at the top of your customers' consideration with valuable content.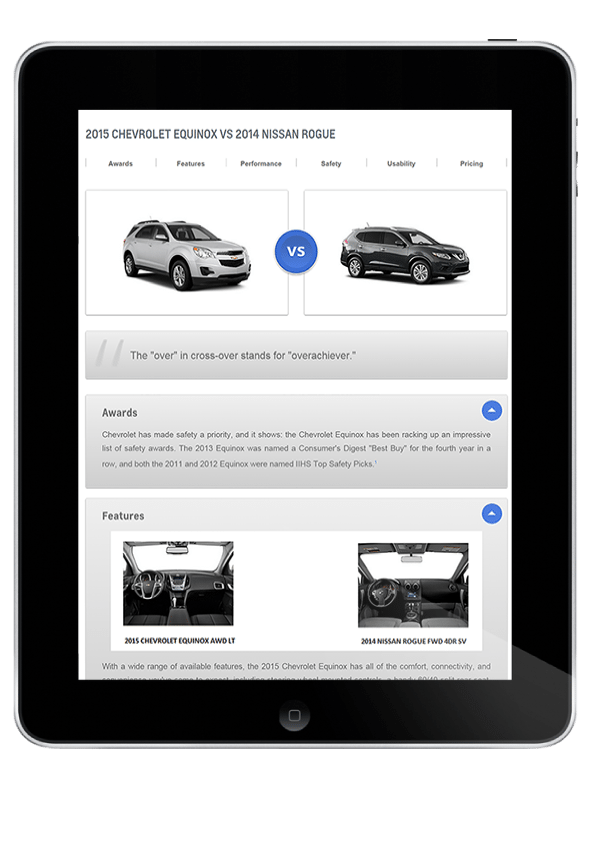 AutoWhyBuy®
Showcase Your Brand and Products to Drive Sales
Unlike other comparison tools, AutoWhyBuy can be used to carefully tailor SEO-rich content, which drives shoppers to your site. Furthermore, AutoWhyBuy's easy to use, attractive interface keeps customers engaged with your website once they arrive, helping you take market share as you conquest users from other brands.
Features include:
Entirely customisable – you can populate the user-friendly unique, SEO-rich, original content to improve search rankings

Multiple vehicles – AutoWhyBuy accommodates the comparison and contrast of multiple vehicles at once

Third-party alternative – we offer another option from third-party comparison sites, where you have no control over the messaging

Higher consideration – our technology and content moves your vehicles to the top of shoppers' consideration sets

Generate leads – AutoWhyBuy turns online researchers into showroom shoppers, thus providing in-market sales leads
There's just no comparison. Get more info about AutoWhyBuy and experience the difference for yourself.
*
indicates a required field.